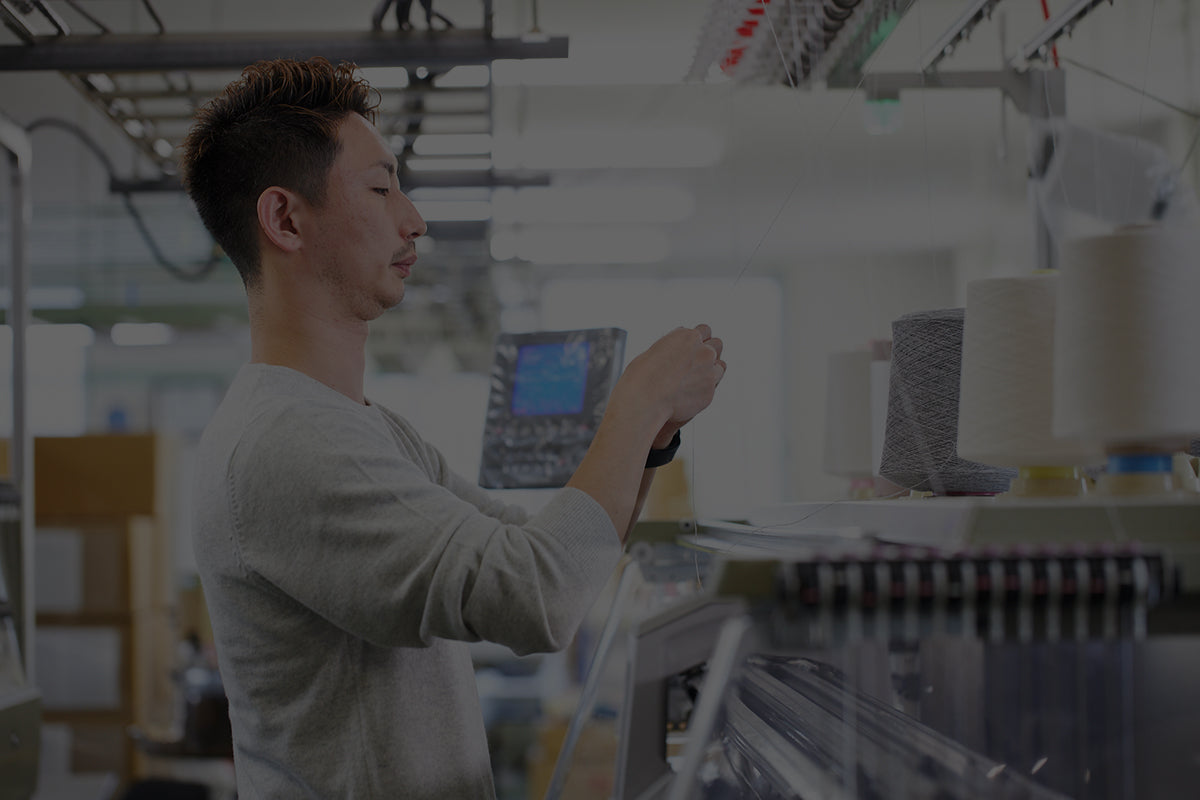 The person who makes UTO
From Northeast Iwate towards the world
In company factory in Kitakami-shi, Iwate,A local expert craftsmanI knit it carefully and prepare it one by one.
Since establishment of 2011, I continue bringing up a talented person supporting Japanese sewing industry 100 years later when I can produce on an assembly line until knitting 立 てから product finish of the cashmere in the Iwate factory which employed a local craftsman in its 20s or 30s.
Of course I want to send the cashmere knit which a Japanese craftsman creates carefully to the world lover as one of the Japanese culture one by one during Japan.
I send a feast of the fashion not to go to you from 1,000 pieces, 10,000 pieces, and that everybody puts power together for you and makes it to the world.
【UTO CRAFTMAN'S FILE】
Tamazawa Hiromi
(たまざわ, Hiromi)
The / vice-plant manager, linking charge


The entering a company fifth year
I am from Kitakami-shi
◯What kind of place a factory of UTO is (manufacturing)
Factory 〉 which can produce on an assembly line until knitting 立 てから finish of the 〈 cashmere
When it makes a sentence, it is an indifferent thing, but it is not averageness to continue (manufacturing) to finish in the quality that can provide one product to a visitor properly.
It is often that a process is delayed when one worker is missing because it is a small factory. .
But I hold information sharing about a questionable point and the work of one's post every day and fix the system which can support each other even if short of somebody.
The person that cashmere is used habitually says. When "it is absolutely cashmere in winter."
I seem to say a big thing, but think, "it is absolutely UTO in winter" that I should increase in the place where the visitor who can purchase it is various every year.
I want to think about (warmth) that everybody of UTO sends to (manufacturing) and a visitor in it in solidarity every day to the first.
 

The Tachi lower Aimi / production chief
(I made length Hidemi)

The entering a company ninth year
I am from Kitakami-shi
◯What kind of affairs do you conduct every day?
Making, management of Joule does the help of each process, a product check, if necessary, every morning at the end of the production after having done a transfer from the yesterday's situation of each process, the contents confirmation of the request book from the head office, the instructions soup stock of work contents of each staff on the day in a meeting from 8:30.
Because I was from the setup of the Iwate factory, I became able to grasp each process.
I conduct such affairs all the time in 6~7 year, but there is never what I felt when "I got tired". Sales were stable, and friends of the same generation increased thanks to oldness and the tax payment that I began in 2014 very much.
The spot wants to make the systems turning around from now on even if there are not upbringing and duties consultation of other members, oneself.
  

髙橋純 / 編立担当
(たかはし, order)

The entering a company fourth year
I am from Oshu-shi
◯The most worthwhile work?
I am in charge of 縮絨 giving 編立 て, inspection, a texture mainly, but I clear it and do a hole and the gab loss made of worm-eaten spots, and refreshment work to regenerate the cashmere which I wear it out, and a feeling came out to to be new is work to like particularly because the connection with "a partner" having you use a product of UTO habitually is felt.
Because it is the body training itself still more, as well as a busy season from autumn to winter, I want work more and yet more throughout the year. Therefore, an aftercare implication, I want to study to suggest a product and the service that include the demand in spring and summer to the head office in the glance of the production spot.
Therefore I share information with the head office more positively from now on and not only I make the thing which was merely said, but also want to work in spite of being a thought.
 

Minako Yaegashi
(やえがし, Minako)
/ sewing machine charge

The entering a company third year
I am from Hanamaki-shi
◯Do you work with what kind of friends?
I am older than all in 40 generations, but am the first new face employee here because I entered the company in June, 2017. Because I went to school of the outfitting and wanted to make manufacturing work all the time, I knew that there was a company called UTO in the town where oneself lived in and changed my job at the age of 42 years old decisively.
Because I concentrate on work to make a thing and face you and demanded environment to be able to be absorbed in, it was a change of job that the courage is, but, for consecutive days of the learning including the technical acquisition, thinks that it was really good.
It is earnest, and, as for friends of the workplace, there is the environment that I point out a mistake although being a pleasure and toss for all manufacturing.
I am glad at all of it being to the member building up the thing which I can continue wearing carefully for a long time called the cashmere in accord with preference and the size of the visitor with such a friend carefully.
 

Chiharu Hatakeyama
(Mt. Hatake, Chiharu)
/ linking, finish charge

The entering a company fifth year
I am from Kitakami-shi
◯What kind of factory will you want you to become in the future in?
I was from local Kitakami and sold clothes and socks in Tokyo. Someday "how is a product completed?" "What kind of place is it made in?" I was interested with と colors and came to be interested.
There was an opportunity to meet the Tachi bottom that was average, high の senior after a long absence and decided to work to hear her story that worked at all lively in this factory in such a case.
It was this work that I began with the without experience, but while I learned the process that oneself was in charge of and made a product in cooperation with each work member, I felt at all sense of accomplishment and came to like this work more.
Even if I will do the pregnancy, delivery in the near future and become mother, I want to continue doing this work all the time. I want you to make the nursery school if a new factory is done (laugh)!