Custom order to own size
"Length・sleeve length・feeling of size does not fit the body.。」
"I want to make it longer」
Uto cashmere knits can be ordered by changing the length・sleeve length・and size of each customer's preference.
In addition, the length of the muffler/stall can be changed freely.
The finest cashmere knit.
Please change it to the size that suits you,and use it long, pleasant,and fun.
↓↓
The following is an additional charge (excluding tax) when changing the length, sleeve length and size.
Length・sleeve length
Length to adjust

High gauge (12g))

 

Middle gauge (5G・7g))

Short.
¥4,500
¥4,500
~+5cm
¥6,500
¥7,000
+6cm~10cm
¥8,500
¥9,500
+11cm~15cm
¥10,000
¥12,000
+16cm~20cm
¥12,500
¥14,500
+21cm~25cm
¥14,500
¥17,000
 
(Reference) women's long cardigan (6117-2008) length+15cm
Women
| | | |
| --- | --- | --- |
| Size | High gauge (12g)) | Middle gauge (5G・7g)) |
| 3L | ¥5,500 | ¥5,000 |
| 4L | ¥8,000 | ¥7,200  |
Men
Size

High gauge (12g))

 

Middle gauge (5G・7g))

3L

¥7,200
¥6,500

4L

¥10,000
¥10,000
(Reference for resizing)
※It is the basic size of the women's crew neck pullover(1112-1303).The size setting changes depending on the design.
| | | | | | | | | |
| --- | --- | --- | --- | --- | --- | --- | --- | --- |
| Size (cm) | 3S | 2S | S | M | L | 2L | 3L | 4L |
| Length | 57 | 57 | 58 | 59 | 60 | 61 | 62 | 63 |
| Shoulder width | 31 | 32 | 33 | 34 | 35 | 37 | 39 | 41 |
| Width of body | 37 | 40 | 43 | 45 | 48 | 51 | 54 | 58 |
| Sleeve length | 56 | 57 | 57 | 58 | 58 | 59 | 59 | 59 |

(Size expansion depends on the product.Please check each product page.)
- Insane of the world, custom order of knitwear〜
****************************************
Uto cashmere knit"moulded knit」
****************************************
The sweater is usually made by sewing 5 parts of "front body, back body, right sleeve・left sleeve, collar".
In order to make this part, there is a knit version pattern paper called"number of times"of the knit blueprint.
In the case of textiles and cut saws, the fabric is"cut and sew"according to the pattern paper of each part, but in the case of knitwear, the parts are made by the method of"knitting (molding) so that the shape as described in the number of times".
In this way, there are"molding"and"cut saw"in knitwear, and basically all of Uto cashmere sweaters are made by knitting"molding".
Each part of the molded knitted knit is connected by a single thread, so it does not waste yarn.
Rather than saying that, because it is an expensive yarn that does nearly 10 times as much as ordinary yarn,it is true that 1 gram can not be wasted.
I think that careful manufacturing using limited resources is a manufacturing method that can gain more support as ecological wear in the future.
****************************************
No mistakes allowed, cashmere molded knit
****************************************
If there is a mistake in knitting, I untie it and re-knit it, but if there is a mistake in the hem and the cuffs at the beginning of knitting, the only way is to re-knit the part again.
Therefore, even if there is a request for rework that"I want to make it a little longer or shorter", I have no choice but to re-knit it again.
In the case of cashmere, there is an important process called"fulling"as a finish after sewing.
When fulling, the yarn loosens and becomes soft, but the strength against pulling decreases, so it is difficult to partially replace the finished product. one of the reasons why it is difficult to fix is that it is difficult to replace the product once finished as a product.
****************************************
What you can't fix is the common sense of knitwear
****************************************
Since the knit is made of a series of threads that became a loop, if you cut it in one place, it will untie from there.
You can cut it by force and fix it small, but you will hang the lock sewing machine so that the cut Place does not untie.
Of course, a sweater with a lock will stretch and shrink, and it will be uncomfortable to wear, so you will feel sad.
Of course, it is almost impossible to give out the width, since you have to add a knit.
So many people, even in a slightly larger sweater or a small sweater"because the knit will stretch and shrink"and wear it with some patience.
There are few people who have no experience in repairing woven clothes, and most people probably fix them somewhere, such as stuffing the sleeve length or putting out the waist.
For example, in the case of woven clothes, I think that I will fix the sleeve length 1-2 cm, but in the case of sweaters, I think that I can cover roughly by stretching and shrinking characteristics.
However, as expected, even a sweater becomes 4.5 cm, the comfort and appearance will be quite different.
I think there are quite a lot of people who say that they like this sweater and wear it with one sleeve folded.
****************************************
If you can't fix it
Custom order from the beginning to the perfect size
****************************************
I tried for many years to have people who have given up because they can not fix it because it is knit wear a sweater of"perfect"somehow, and finally came to come true.
The only way to wear a sweater that you can't fix is to make it one by one.
In 2002, we started a custom order form for cashmere,"we will make it in the color you want and in the exact dimensions."
However, custom order of knitwear is not so easy.
For example, if the length is slightly extended from the waistline to the hem, the slope from the waist to the hem will change even if you extend the length, so you have to change the number of eye drops.
Even the simplest length will do this much work, so when you change the width of the bust, it will affect the shoulder width, sleeve width, armhole, sleeve length all associated with it, so it will be a struggle every time.
In the case of Uto, in order to create a custom-ordered product, the same energy is poured into making it.
One by one is hardball.
(First of all, from the change of the blueprint)
In addition to size, for customers who come directly to our company, you can extend the collar of the turtle, or lengthen the rib of the hem and sleeves.
We also accept requests to change the design by putting a color scheme in part and make your own original.
In fact, I think that the best words of praise are the voice that"there is no sense of incongruity in nature"when wearing the finished sweater.
Since the amount of yarn used increases when the size becomes large, we correspond to receive a size-up fee.
When I started, I received an order from a customer at an order meeting at a shop around 4 month, but other manufacturers in and out of the shop said"I can not believe that I do such a thing with knit", and I laughed at each other when I heard that I was unbearably worried until it was delivered to the fall of 8 month.
Custom order for knitwear.
I am proud that this is a great thing after all.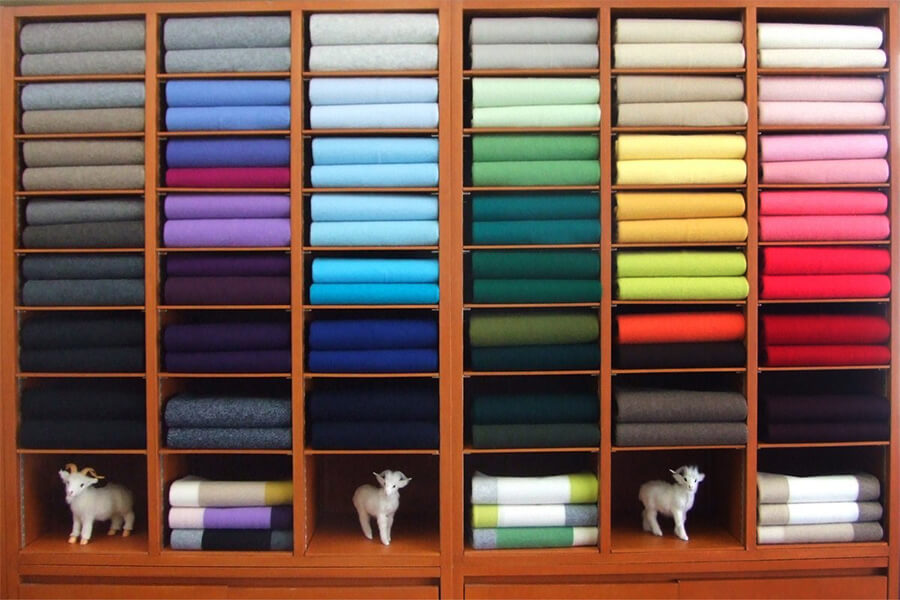 There are 20 colors to choose from. Calm colors, vivid colors, Choose the color that's right for you
Read more