[Reconstruction support for the Great East Japan Earthquake] Cashmere Angel Bookmark
Sale price
¥330
Regular price
(/)
SKU: shiori
Size (cm): Approximately 12 cm x 3.5 cm
Color: We will randomly select
Delivery: We will deliver it by Yu-Mail or Nekoposu. Since it will be posted to the post, you cannot specify the delivery date and time.

Material: 100% cashmere
Knitted fabric: double ridge knitting or rib knitting
Cashmere Angel Bookmark
In October 2011, we moved our factory from Yamanashi to Iwate in search of knit craftsmen.
At that time, the Tohoku region was still in a state of confusion six months after the Great East Japan Earthquake, and nearly 600 people from the coastal areas were evacuated to Kitakami City, which suffered relatively little damage.
We, as newcomers, think that there is something we can do as a corporate citizen, and by raising 100 yen for each cashmere pullover, which is our main business, we can add kerosene to the cold winter in Tohoku. I started donating through Kitakami City to have them do it.
At the same time, we decided to make and sell the softest "Angel Bookmark" in the world, including the appeal of cashmere, and donate 100 yen each time we sell one.
This "cashmere angel bookmark" is handmade one by one by UTO employees, considering the combination of the color of the main body and the color of the bush. It costs about 500 yen per sheet, but it is sold for 300 yen.
Of course, 100 yen was donated to support the victims of the Great East Japan Earthquake, and the donations started in 2012 have exceeded 2.3 million yen so far.
However, unfortunately, as time passed, the memory of the tragic Great East Japan Earthquake gradually faded, and the number of donations seems to be decreasing.
As a person who makes things in Tohoku Iwate, I would like to continue to support him as long as the company continues.
Donation year Amount
2012 78,600 yen
2013 130,200 yen
2014 221,400 yen
2015 400,000 yen
2016 400,000 yen
2017 400,000 yen
2018 300,000 yen
2019 400,000 yen
Total 2,330,200 yen
[Reconstruction support for the Great East Japan Earthquake] Cashmere Angel Bookmark
Sale price
¥330
Regular price
Choose options
3・11
東北復興支援を続けて"10年"。
被災地岩手県の地元のカシミヤ職人による、カシミヤニットづくりを通じた支援活動
被災地・岩手の企業市民になったからには続ける寄付
当社は、2011年10月にニットの職人を求めて山梨から岩手に工場を移転しました。
当時東北地方はまだ東日本大震災にみまわれた半年後で混乱状態で、比較的被害の少なかった北上市には、沿岸部から600名近い方々が避難していらっしゃいました。
新参の私たちも企業市民として何かできることはないかと考え、本業であるカシミヤプルオーバーが一枚売れるごとにを通じて100円を募金することで、東北の寒い冬を越すための灯油代の足しにでもしてもらいたいと、【北上市市役所】を通して寄附を始めました。
同時に、カシミヤのアピールも含めて、世界一柔らかい「天使の栞」を作って販売し、これも一枚売れる度に100円を寄付することにしました。
カシミヤ天使の栞
この「カシミヤ天使の栞」は、UTOの社員が本体の色と、ふさの色の組み合わせを考えながら1本1本手作りしたものです。
1枚500円ほどのコストがかかりますが、300円で販売しております。
色とりどりのふさ
栞の本体の色とふさの色の組み合わせも手作りで選ばれているので、
デザインはそれぞれ異なりランダムでのお届けとなります
100円は東日本大震災の被災者の支援として寄附させていただいて、2012年から始めた寄附は今までに350万円を超えました。
2012年  78,600円
2013年  130,200円
2014年  221,400円
2015年  400,000円
2016年  400,000円
2017年  400,000円
2018年  300,000円
2019年  400,000円
2020年  400,000円
2021年  400,000円
東北でつながる。地元からの支援

『みちのくのモノづくり × 新しい被災地支援』
寄付を通じて北上市市役所より、「灯油購入券」と「防災ラジオ(上)」が北上市へ避難された方々へ無料で届けられました。
また最近、5年前に支援のあった方より直接当時のお礼のお言葉もいただきました。
「当時、寒かった冬を温かく過ごすことができるようになり、また知らない土地へ避難して"孤独"と"不安"の気持ちが強かった時に"防災ラジオ"を通じて周りの声が聞こえるようになり、とても安心した気持ちで日々が過ごせるようになってとても感謝しております」とお言葉をいただき、多くの方々の支援に繋がっていたことに大変嬉しい気持ちになりました。
"現在"はあの悲惨な東日本大震災も時が過ぎるにつれてだんだんと記憶も薄れ、寄付も少なくなってきているようです。また、10年かけた"復興支援"の段階から"次のステップ"を模索しているとのことでした。
そのお話をお聞きし、私たちも東北岩手の地でモノづくりをする者として"次のステップ"を模索しつつ、
地元で"最高のモノづくり"にこだわり皆様へ"最高のカシミヤニット"を届けていくことで東北支援・活性化の大きな力になるよう、これからも岩手の企業市民としてできることを微力でも続けたいと思っております。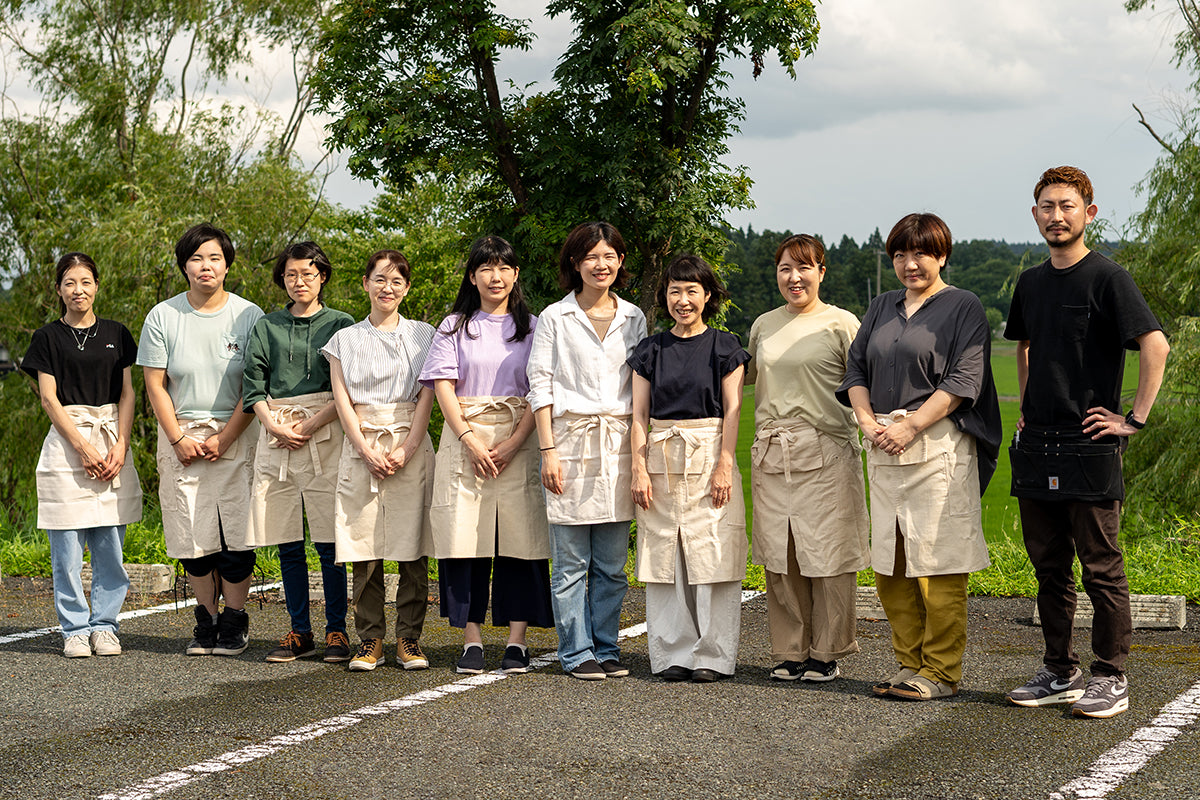 10年、20年先も
ずっとあなたとともに
原毛、紡績、染色
さまざま分野の匠たちが時間と手間を惜しみなく
注ぎ込んで作った「一本のカシミヤ糸」を、
最後にUTOのカシミヤ職人が
1枚1枚大切に、手間をかけて編む、
「世界に一枚だけ」のUTOのカシミヤニット。
長く大切に、愛を持って使い続けて欲しいから。
何千、何万分の一ではなく
「かけがえのない一枚」を、
「身も心も暖まる極上の一枚」を、
あなたへ。
勿体ない
使うのが勿体ないような。今度、他の商品も購入したいと思っています。